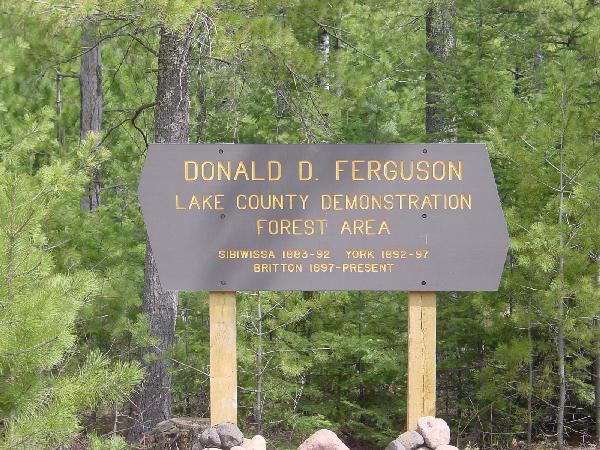 We invite you to step into the Donald D. Ferguson Demonstration Forest. The 400 forested acres of this woodland are a melding of the past and present. In the late 1800s two railroads – the Duluth and Iron Range and the Duluth and Northern Minnesota – hauled their loads of ore and timber from this land. Now in the 21st century, these multiple use forest lands are valued for wood fiber and lumber; habitat for wildlife; and for cultural, aesthetic, and recreational values they provide to the citizens of Minnesota and visitors to the area.
Mission
The purpose of the Demonstration Forest is to develop a working forest using state of the art forest management techniques to demonstrate that forest management activities can provide fiber and timber for industry while also providing important wildlife habitat, cultural values, and recreation. The 480 acres encompass diverse forest types (White Pine, Norway Pine, Aspen, Black Ash, Maple, Tamarack, Black Spruce and Balsam Fir), 2 main watersheds (Knife River and Stewart River), many different wetland types (peat bog) and a variety of wildlife. In addition to the natural features, historical and cultural features at the site include two historic railroads, an old gravel pit, a railroad work camp and the Pepperlin Homestead. The Demonstration Forest is available to school groups for outdoor educational experiences.
Year-Round Recreation
The Demonstration Forest trails are available for hiking and biking in the summer. There is a spur of the Superior Hiking Trail connected to the Demonstration Forest. The trails can also be used in the winter for cross country skiing, snowshoeing, and fatbiking. The North Shore Snowmobile Trail goes through the Demonstration Forest. According to www.geocaching.com there are currently four caches in the Demonstration Forest. There are restrooms, a shelter and an information kiosk located near the parking area.
Location
The Lake County Demonstration Forest is located approximately 8 miles NW of Two Harbors on the Drummond Grade. Four-hundred acres were designated as the Donald D. Ferguson Lake County Demonstration Forest in 2001. It was the vision of Donald D. Ferguson, a long-time Lake County resident/forester, that was the initial impetus for the creation of the Demonstration Forest.