New in 2022 – Native Plant Sale
We are working with local native plant nurseries to provide you with the opportunity to order native plants. Your native plant orders can be picked up at our office on Friday, May 13th, the same day as the Native Tree and Shrub sale pick-up. Visit the Shoreview Natives website to place your order.
Lake SWCD is supportive of all local native plant growers, and we are lucky to have quite a few vendors and resources to assist with native and pollinator plants in our area. If you are a native plant grower, get in touch with us! We would love to help spread the word of your offerings!
Tree Protection
Your tree sale orders will be ready for pick-up on May 20th. Don't forget to plan to protect them from the deer! Lake SWCD is offering the following tree protection measures to you. If interested, please let us know which protection measures you would like by emailing Derrick Passe and bring check or cash when you pick up your tree order. We'll have it ready with your tree sale order!
4'x4′ Tree Mats with 4 wire staples – $2 each – recommended for all new seedlings
6′ Tree cage with post – $25 each – recommended for white pine, cedar, red pine
48″ Rigid tree tubes – $5/pair – recommended for deciduous saplings
Mesh bud caps – $2 for 10 bud caps – recommended for winter use on white pine, white cedar, red pine
For more information, contact Derrick Passe at (763) 286-0570 or Derrick.Passe@co.lake.mn.us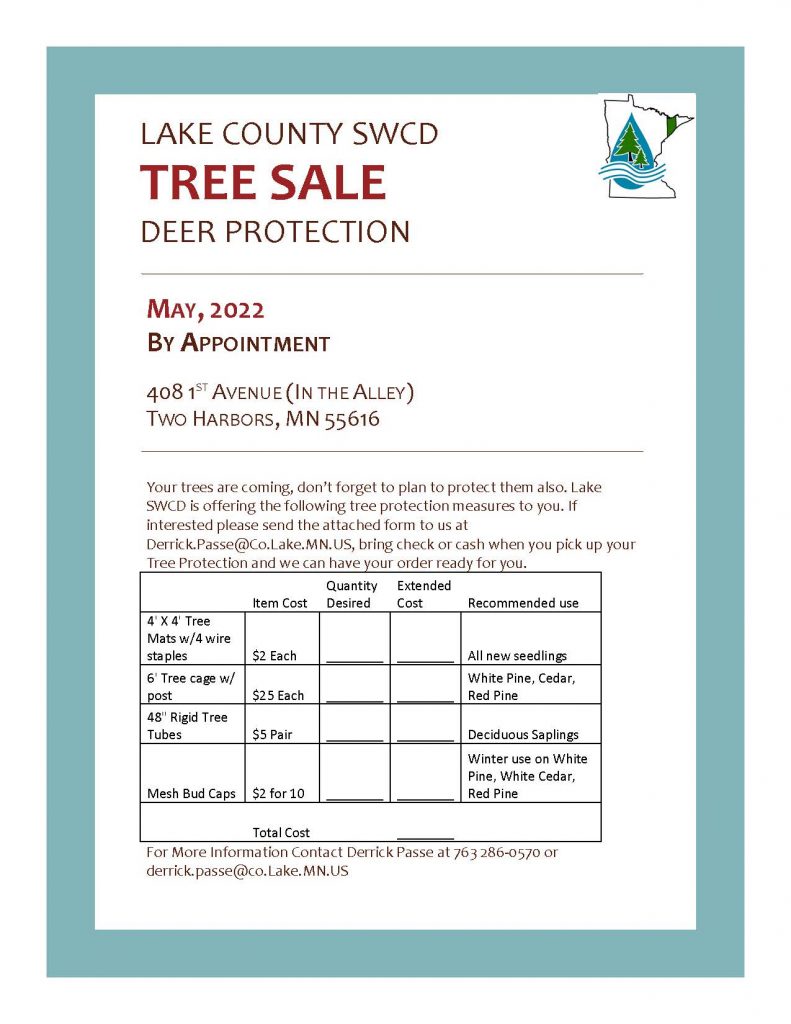 2022 Native Tree and Shrub Sale
The 2022 Native Tree and Shrub Sale is open! South St. Louis SWCD will still be collecting mailed-in order forms, but best availability can be found by ordering online. You can access the online store by visiting South St. Louis SWCD's tree sale webpage, scrolling to the bottom of the page, and clicking the green button.
The Two Harbors pick-up will be on Friday, May 20th, 8 am – 5 pm (this is a change from the previously scheduled May 13th due to a late spring causing a delay with tree suppliers). The pickup location will be at our office, 408 First Avenue, Two Harbors. Please pull around to the alley behind the building to collect your trees.
Important note for 2022: Due to nursery inventory limitations, all 2022 are seedling grade and some traditional offerings were not available to us this year. Pricing on some bundles reflects that change to seedling vs. transplants. Also, check sizing as that changes year to year due to availability. Bundle size is 25 trees per bundle. To help you plan, trees being offered in 2022 are:
Black Cherry, Black Chokeberry, Black Spruce, Choke Cherry, False Indigo, Hackberry, Juneberry, Mountain Ash, Ninebark, Norway (Red) Pine, Paper Birch, Red Maple, Red Oak, Red Osier Dogwood, River Birch, Silver Maple, Staghorn Sumac, White Pine, White Spruce and Wild (American) Plum. If it's not listed, we will not be carrying it in 2022.
Frequently Asked Questions
When do I need to plant the trees?
Ideally, as soon as you get them. Realistically, plant within days. Much past a week after pick-up is pushing it. The trees need to be tended to daily, so it will be easier on you and the trees if you can plant them quickly.
How do I store my trees until I plant them?
Find a cool, shaded spot next to something you can lean the trees against. Set the roots directly on the ground, wrap the outside of the roots in burlap or an old bath towel, and water multiple times per day. Keep the roots and their wrapping wet, as you do not want the roots to dry out. Do not submerge roots in a bucket of water, as they will drown.
How big are the trees? Should I pick them up in a trailer?
No, most of the trees will easily fit in a car. Look at the order form for the heights of the trees you are purchasing. We wrap the roots in a bag so your car doesn't get dirty.
Can I order less than a bundle?
Unfortunately, we can't break down the bundles. However, you might have a friend or neighbor who would like to split a bundle with you.
Why don't you sell (insert name of tree here)?
We only sell Minnesota native trees and shrubs, and we take many factors into consideration when making our list. Changing climates, previous years' sales, what is available from nurseries, and current issues in forestry all factor into what trees we select.
What if I can't pick up my trees on the assigned day?
You'll need to find someone to pick them up for you. We aren't able to care for the trees after the pick-up day.
Will the deer eat my trees?
If they're hungry enough, we've all seen what deer can do to any plant. If deer are a problem in your area, you can build simple cages or put fences up around your trees.
Can I buy the leftover trees?
No, we do not sell any unclaimed trees.
How do I know when to pick up my trees?
You'll find pick-up information on the order form. We will send out an email reminder about a week before the pick-up. If you're not certain or don't receive an email, please don't hesitate to call us!
All information was provided by South St. Louis Soil & Water Conservation District